Super Soco TC Max
Subcribe to back in stock notification
customers are viewing this product
Super Soco TC Max
Super Soco is not a newcomer to the electric two-wheeler market. It successfully debuted in Europe in 2013 and became the number one urban electric motorcycle equivalent to 125CC. This is a zippy bike, and very entertaining that will make your daily commute a pleasure. Unlike gas engines, the electric motor dumps torque into the rear wheel at once, so rather than revving up, you get an immediate bite at the slightest twist of the throttle.
Developed in collaboration with Bosch, for the engine part, assembled in China from European parts, this model targets a clientele of bikers, concerned about the pleasures of piloting and rides. The engine, if it is not a lightning of war, develops 5 kW in peak, which gives it nice accelerations. It peaks fairly quickly, more than sufficient for busy urban traffic. The line is indeed that of a motorcycle, slightly "vintage", a kind of nicely dressed roadster. Everything is reminiscent of the motorcycle: braking, efficient, line, attractive, handling, almost flawless.
TC Max is distinguished in particular by a round LED headlight, a suspended ribbed saddle, an "engine" cowling with a contemporary style, and rims with sticks.  The easy-to-read meter displays the battery charge level, the remaining range, the driving mode engaged, and the standard indications (speed, mileage, etc.).
REMOVABLE BATTERY
The Super Soco TC Max is equipped with a keyless start system. All you have to do is press the central Power button under the handlebars to turn it on. Located in the dummy tank, the 3.2 kWh Bosh battery charges between 4 and 5 hours on a standard outlet. On a full charge, it provides up to 80 miles of range on ECO mode and 60 miles on full speed.  Easy to extract from its housing, it will be easy to "refuel" at home or at the office.  The sophisticated algorithm dynamically calculates the State of Charge (SOC) and displays this on the dashboard in the form of the remaining riding distance available.
MOTOR

With TC Max V-Moto replaced the TC hub motor with a 5,500RPM axial flux motor. The high motor speed is converted into instant torque through a toothed belt and its 5000W makes this torque sustainable enough to maintain a steady speed even on serious inclines.
The European version of TC Max can achieve 90km/h but after 75km/h the pick-up is almost unnoticeable. As this bike is made for the city, we decided to limit its speed to 70km/h but kept an almost proportional increase of the torque till its max speed.
CONTROLLER
The heart of the bike–the controller–is encased in a one-piece ribbed die-cast aluminum box for exceptional heat dissipation. It is mounted on the front of the bike for more efficient cooling although its oversized current ratings would allow it to stay cool even during long uphill rides. It is a Field Oriented Controller (FOC) which has a vector control algorithm that maintains efficiency at a wide range of speeds. This controller also dynamically takes into consideration torque changes according to the road conditions. Finally, it is equipped with a dedicated processor monitoring all electronic components ensuring a safe and efficient ride for you.
CHASSIS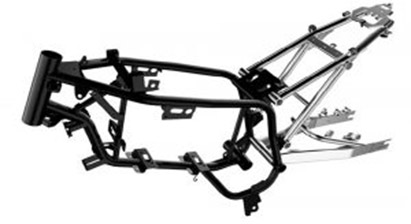 The quality of the mechanical parts of the Super Soco TC is no less impressive than the quality of the electrical components. The unique mechanical construction starts from the chassis that is designed on the basis of the split frame concept of a racing motorcycle. This allows both a robust and light construction. The front end is robot-welded carbon steel that is then painted by electrophoresis. This only weighs 6kg. The rear half of the frame is robot-welded aluminum alloy argon and subjected to T6 heat processing to the strength of 240MPa. This means the bike is strong enough to carry a load of up to 150kg (330lb).
SUSPENSION & COMFORT
Along with its impressive rigidity, Super Soco TC Max also comes with the comfort of exceptional suspension. The bike is supported by inverted 700mm long and 35mm wide motorcycle-grade front shock absorbers. With a 200mm travel distance, strong torsion resistance, and an aggressively positioned angle, it provides a comfortable ride even on rough terrain. The rear hydraulic and adjustable mono-shock adds to the incredible comfort of Super Soco TC Max. This bike features a comfortable retro-style padded seat.
BRAKES and SAFETY features

The Super Soco TC Max is equipped with a massive 240mm disk hydraulic double piston front brake with oversized floating calipers. The Super SOCO TC Max factures high-quality Brembo hydraulic brakes and a Combined Brake System ( CBS ). CBS allows the rear brake to be combined with the front brake. Indeed, when you brake from the rear, the front brake will automatically activate in order to better balance the action and prevent you from unbalanced manual braking in an emergency situation.
The smooth regenerative braking is always applied prior to the mechanical braking, thus acting as an Electric Anti Block System (EABS). The battery BMS algorithm also ensures that the maximum amount of converted electric power is recuperated.
LIGHTS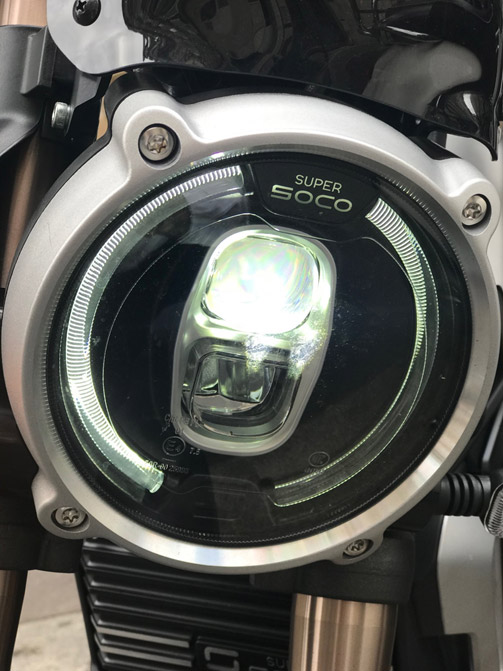 The headlight is incorporated in an elegant retro-style enclosure. Six LED modules are fired in combinations for high/low beam and running headlights. These provide brighter and more power-efficient illumination than the equivalent capabilities of a halogen headlight. Over 8000 lumens are concentrated in a 35 degrees beam at high beam mode.
Thirty independent LEDs support wide-angle daylight running light. The rear running brake and turn signal LED lights are designed in a classic style matching the beauty of the retro shape of the bike.
The front and rear LED turn signals are 40cm apart from each other that making this bike compliant as a motorcycle
DISPLAY, GAUGES, SWITCHES

A combination analog/digital display is enclosed in a retro-style dashboard. It displays current speed and error codes, total mileage, controller temperature, real-time output current, battery state of charge, distance per charge, trip distance, remaining distance, ambient temperature, and current time. All of this data can be displayed through a smartphone application when it is available at the end of the year. Three electronic gear switches, a hi/low beam headlight switch, and a motor kill switch are ergonomically positioned on the right side of the handlebar.
SECURITY

Motorino Super Soco TC Max has a keyless start that only works with the proximity of its fob. It has mechanical and electronic theft protection devices. It is equipped with steering wheel lock that locks the handlebar in one position. Apart from that it is equipped with electronic keyless starting system that makes almost impossible to start the bike if you don't have the remote ignition activation knob. The Motor automatically locks-up if the remote control is not present nearby. The bike is equipped with network enable GPS system which communicates with smart phone application and the bike can be located anywhere in the world. The application for North America is currently under development.
LEGALITY
When we talk about electric motorcycles, we mean motorcycles that are certified by Transport Canada according to Canadian Motorcycle Safety Standards (CMVSS) and are legally imported to Canada under one of three categories regardless of whether they are electric or ICE.
1. Limited Speed Motorcycles (LSM): Maximum speed of 70 km/h. Road and highway legal
2. Open Motorcycles (OM): Faster than 70 km/h. Highway and freeway legal
3. Restricted Use Motorcycles (RUM): Only allowed for off-road

All three categories of motorcycles must have :
• Vehicle Identification Number (VIN) registered with the federal registry when imported, and are insurable
• The LSM category normally requires regular driver's license, but this may vary between provinces
• The OM category requires a motorcycle license
• The RUM category does not require a driver's license, but they cannot be plated for road use and restrictions regarding their use may vary between provinces
Close
Customer Login
If you are already registered, please log in.
Your cart is currently empty.
Shipping
Taxes and shipping fee will be calculated at checkout